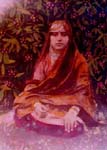 Her Early Life & Career
Malika Pukhraj was born to Gulzar Begum and Abdullah Khan in a small village close to Jammu called Hamirpur Sidhar. The village was located very picturesquely upon the banks of the Akhund River. From the very start Malika was exposed to a disciplined and strict regimen and she began training as a three-year-old with Ustaad Ali Baksh Kasuriya, the father of Ustaad Baray Ghulam Ali. At the age of five years, she left for Delhi to learn music and dance (nirth bhahu) with famous musicians like Ustaad Momin Khan, Ustaad Mollah Bukhsh Talwandi and Ustaad Ashiq Ali.

The turning point in her career came when she returned to Jammu as a nine year old to attend the taj poshee (crowning ceremony) of the Maharajah Hari Singh. Her fame had travelled before her and the Maharajah having received intimation of her talent employed her at his court. At the age of 9, Malika became a gazetted officer, for she earned over Rs. 500 a month as her stipend. The many years that she spent at the Maharajah's court allowed her to excel, for she performed at the darbar on a regular basis, mostly rendering classical music, that is, thumris and dadras and sometimes ghazals and geets. During her sojourn at the court, she performed in front of innumerable members of the sub-continent's princely ranks, including the Maharajah of Patiala among many others.
---