Her Legacy
Malika's contribution to music is manifold and varied. Her most important role was to introduce ghazals in many different ragas. Some of these ghazals were even composed by her, while others she had specially put to music. The particular feature of her work was the special attention she paid to the words of the verse and its link to the composition or the tune, in other words, the ghazal and its meaning was revealed through the music that it was set to, thus attaining an amazing harmony and balance. She was highly selective and discerning in matching the two. Two of her most favorite ghazals are "Zahid na kae buree", which is a ghazal by the poet Dagh and "Teray ishq kee intaha chahata houn" by Allama Iqbal.

She was also unique in singing azaad nazam (free verse), which not many performers had done before and it was in this area that a unique relationship developed between her voice and the poetry of Faiz Ahmed Faiz. One particular beautiful and haunting melody that continues to charm with its simplicity is "Tum meray paas raho".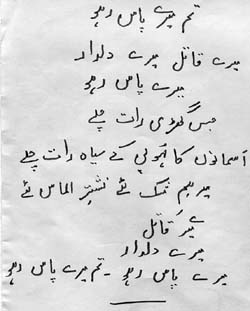 Malika also paid a long lasting tribute to her birth place by popularizing Pahari songs, which she had learnt from common laborers and masons in Jammu. The joie de vivre expressed in these tunes reflects their original flavour and traditional richness, since she maintained both the basic tunes and words of these songs.
Malika's legacy continues today with her daughter Tahira Syed, whom she trained in the same form of music.
---